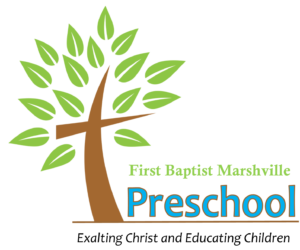 1636 Old Hwy 74 Marshville, NC 28103 * 704-624-2710
"Train up a child in the way he should go: and when he is old, he will not depart from it." – Proverbs 22:6
If you have additional questions please contact the church office at 704-624-2710 or email our preschool secretary at: secretary@fbcmarshville.org.
The Preschool at First Baptist is a staple in the Marshville community. For years it has served as one of the premier preschools in the area and has a reputation of exceptional Christian values. The preschool is a ministry of the First Baptist Church and is therefore an extension of the beliefs and values held by the church. The congregation at First Baptist has always had a tremendous burden for children and therein lies the success of our preschool ministry.
Our Philosophy
It is our belief that God is the architect of our growth and development as people. His design for young children is in a sequential manner with predictable stages of development. We recognize that God creates each child to be unique and valuable. We believe to respect the nature of the child and the progression of development is to respect God's dynamic creation.
It is our goal to provide helps and challenges throughout this growing process by providing a balanced and well planned program. Our daily schedule consists of "hands on" learning while participating in individual, small group, and large group activities.
It is our intention to nurture the development of the whole child by focusing on spiritual, physical, emotional, social, or cognitive growth. As Christian teachers, it is our desire to provide a loving and positive environment that displays the love of Christ and biblical principles for life.
We currently use the Wee Learn Curriculum and Discovery through play. This curriculum is centered around biblical principles which provide the opportunity for students to learn about Jesus, the Bible, the Church, Self, Family, Others, and Nature. The program also provides exercises that promote physical, mental, social, emotional, and spiritual development.
The academic development of your child is important to us. We are committed to helping your child make an easy transition into his/her kindergarten program. Our teachers are familiar with Union County "Readiness Guide" for entering Public School Kindergarten and make every effort to instill the items listed in that guide into each child to help their preparedness for Kindergarten.
The Preschool is a ministry of the First Baptist Church of Marshville and thus the governing body for the Preschool is the "Preschool Committee" made up of members of the Church. The leader of the Preschool Committee is the "Preschool Director". This committee and our teaching staff are the backbone of what makes our Preschool so successful. To learn more about our Preschool Staff, visit our Preschool Staff page with a bio on each of our teachers and assistants.
For more information about our Preschool please contact us at 704-624-2710.
Click on the link above to view our 2021-2022 Preschool Handbook