Watch our Sunday Morning Worship service Live every Sunday at 10:30 am
This live webcast should not replace faithful attendance in a local church!
Make plans to join us in person
First Baptist Church of Marshville
Be sure to visit our homepage to download & print this weeks
Bulletin
, Sermon Notes and Kids Sermon Notes!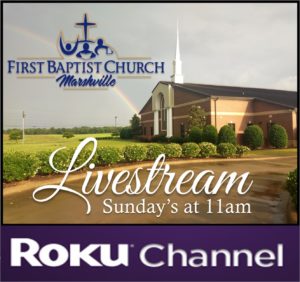 If you have a ROKU Device then be sure to Download our ROKU Channel to catch our services Live!