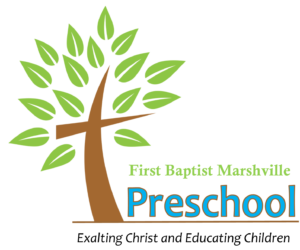 Meet our Teachers and Assistants
The success or failure of any school is determined by its staff. Here are First Baptist Preschool, we are blessed to have a staff who loves the Lord, each other and children. Our staff not only desires to help prepare your children to start school, but they also seek to share with them the love of Christ. To help you get more acquainted with our staff, read a brief bio below.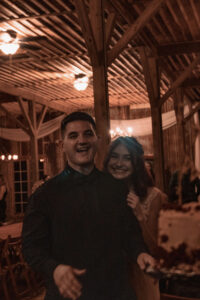 My name is Jessica or Mrs Jess! I am this years two year old teacher. I've helped out in the past and last year was my first year as an assistant. I love hanging with your kiddos and exposing them to new concepts. Seeing them get so excited after learning something new makes my day!! I've always been a child at heart that's why I chose the picture above from my wedding as I was surprising my husband with our batman wedding cake! My favorite bible verse would have to be Matthew 6:34 "Therefore do not worry about tomorrow, for tomorrow will worry about itself. Each day has enough trouble of its own." As someone who overthinks and worries about everything that can go wrong, it's important to live in the now and let tomorrow wait.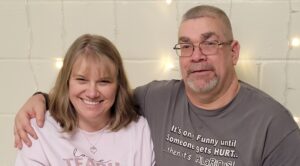 My name is Kimberly Hickson. This is my 5th year at the preschool, my second as lead teacher in the 4 year old class. My husband and I just celebrated our 32nd wedding anniversary. We have 3 children and 5 grandchildren. When I'm not at the preschool I babysit my youngest grandchildren. Spending time with them is the best! I am a member of Oakdale Baptist Church; where my husband has been the pastor for the past 10 years. I love working at a preschool where we can talk about and share the good news of Jesus Christ. The one bible verse I like to the kids to know is that they are fearfully and wonderfully made. I like them to know that God made them just the way he wants them to be and that God made us all different and special!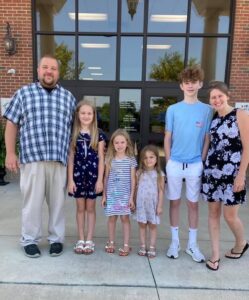 My name is Desiree Strunk. I am married and have four children. This is my second year teaching the 3 year old class at the preschool. Watching the students grow, learning new things, making new friends, seeing them use their creativity and imagination, and building connections with the students have made my teaching experience so rewarding. Psalms 25:4-5 says "Show me your ways, Lord, teach me your paths. Guide me in your truth and teach me, for you are God my Savior, and my hope is in you all day long." This is my prayer for this school year. I am very excited to meet all the new students and their families. Parents, please feel free to communicate with me about your student anytime. I would love to work together so your child can have a great experience at preschool. I am looking forward to all that God has planned for us this year.
2-year old Teacher Assistant
My name is Abby Floyd. I am the two year old assistant teacher for the 2023-2024 school year. I grew up in Monroe, North Carolina and graduated from South Pointe Christian School. I have been playing and performing music for over 14 years and I am excited to share my music with your children. I am truly looking forward to all that God has in store for this school year and the way He will bless the lives of the staff and children.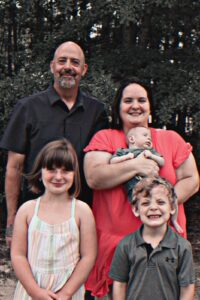 4-year old Teacher Assistant
My name is Amber Adams. I am the assistant for the 4 year old class. This is my third year with this preschool, but I have taught preschool aged children for a total of eight years. I have worked with children in preschool, in home daycare, private preschool, and church kid ministries most of my life. My husband, Chris, and I are both members of First Baptist Church of Marshville, where I also help with the preschool childrens church and our nursery. Chris and I just celebrated our sixth year of marriage in January. We have three amazing kids, our daughter Alana and our two sons, Logan and Dylan. I am looking forward to an awesome year. I can not wait to see what God has in store. Thank you for allowing us to be a part of your child's life and share Jesus with them.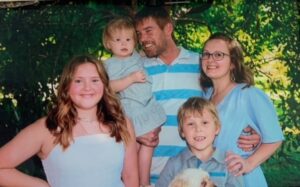 Michelle Willis
3-year old Teacher Assistant
My name is Michelle Willis. I am the three year old assistant teacher for the 23-24 school year. I'm married with three kids, ages 14, 9 and 2! We are members at First Baptist Church of Marshville. My oldest daughter and I serve in the Kingdom Kids Ministry. I'm filled with joy as I start this new journey of teaching and excited to be able to share the love of Jesus with your littles ones. One of my favorite scriptures is Romans 12:2. It says "Do not conform to the pattern of this world, but be transformed by the renewing of your mind. Then you will be able to test and approve what God's will is – his good, pleasing and perfect will." This is going to be a great year!!
Please pray for each of these teachers and assistants as they work with the wonderful children who attend our preschool!