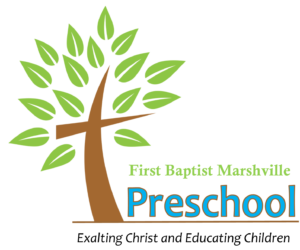 The success or failure of any school is determined by its staff. Here are First Baptist Preschool, we are blessed to have a staff who loves the Lord, each other and children. Our staff not only desires to help prepare your children to start school, but they also seek to share with them the love of Christ. To help you get more acquainted with our staff, read a brief bio below.
Director / 4-year old teacher
My name is Anne-Marie Wilson. I am the four year old teacher this 2021-2022 school year. I am a native of Parkersburg, West Virginia. My husband, Scott, is the pastor of this church, First Baptist Church of Marshville. I have a beautiful daughter, Elisabeth, who is part of our 4 year old class this year. I have a masters degree in education from West Virginia University. I had taught in the public schools for 10 years/ and a private University for one before stepping away to have our daughter. Additionally, this month marks my one year anniversary of leading our Kingdom Kids Children's program as Children's Director (ages 3- 5th grade) at our church. We have seen 9 kids saved in our children's program since January 2021! God is moving and has truly blessed our church. I am very excited about all that God has in store for our school year. I believe it'll be our best one yet! We have an excellent team of teachers who are so eager and passionate to teach your kids not only school work, to grow and have a love for Jesus Christ.
3-year old teacher / 4-year old assistant
My name is Kimberly Hickson. I will be teaching the 3 year old class and assisting in the 4 year old class this year. I currently teach the youth at Oakdale Baptist Church. Where my husband has been the pastor for the past 9 years. This past June we celebrated 30 years of marriage. We have been blessed with 3 children; a son and 2 daughters and 4 grandchildren. I am looking forward to see what God has planned for this year. Thank you for allowing us the opportunity to spend a few hours each week with your child.
2-year old teacher / 4-year old assistant
Bio Coming Soon!
My name is April LeMaster. I am excited to be the teacher assistant in the two year old class.
My husband and I have two daughters and we're currently raising them in Marshville, where we were born and raised. I have a degree in criminal justice and love serving the community. After my second daughter was born the Lord placed it on my heart to be home with my girls. We faithfully attend First Baptist Church of Marshville and we wouldn't want to be anywhere else. I'm eager to see how the Lord will work in each child throughout the school year. I trust they will learn and grow academically and spiritually.
My name is Abby Floyd. I am the three year old teacher assistant for the 2021-2022 school year. I grew up in Monroe, North Carolina and graduated with honors from South Pointe Christian School. I have been playing and performing music for 14 years and hope to make it a part of my future career and endeavors. I am truly looking forward to all that God has in store for this school year and the way He will bless the lives of the staff and children.
Please pray for each of these teachers and assistants as they work with the wonderful children who attend our preschool!