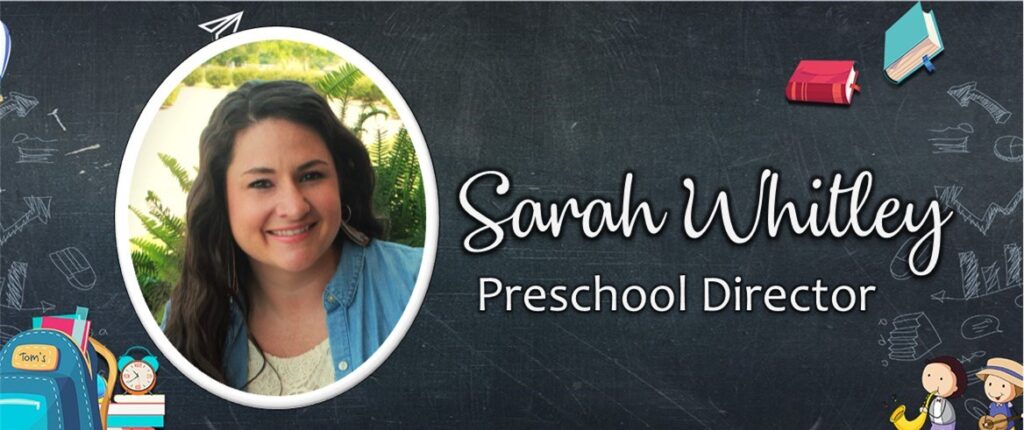 We are so excited about Sarah's arrival this coming Fall to lead the preschool ministry at First Baptist. She is a dedicated follower of Christ and has a passion and gift for working with children. I have no doubt that she will be a blessing to all the children and families who are part of our preschool.
– Dr. Scott Wilson, Pastor

Hello my name is Sarah Whitley. I will be the Director for FBC Marshville Preschool for the 2023-2024 school year.
I am a mom, wife, and believer in our Holy God.
I genuinely enjoy nurturing and caring for preschoolers. I believe that each child is uniquely made by God and in their uniqueness they learn and thrive at their own pace. I love working with children and enjoy their excitement of learning and discovery.
There is nothing more meaningful in my professional career as the honor of facilitating discovery, learning, and developing independence in children. In addition to my experience in early childhood education as a preschool teacher, working and serving in children's ministry I am also a parent of blossoming little learners. Throughout my experience I have had the opportunity to work and engage with children of various ages. I continue to learn more on how to provide education and growth that emphasizes cognitive, emotional and spiritual growth in young children by attending reputable conferences and continuing education seminars.
In addition to my early childhood educational experience at Calvary Baptist Church Preschool, I have taught in children's ministries for various ages for numerous years, and have a passion for volunteering with organizations that strive to help children learn and grow through hands-on activities while building confidence and self esteem.
I attended Wingate University as well as South Piedmont Community college. I have a degree in nursing and have always had a passion for serving others.
I value my role supporting moms and dads in their parenting journey. I strive to build community amongst our preschool, church and the families that have entrusted us with their most precious gifts from God.
I am committed to providing your family with a loving and developmentally sound foundation for a lifetime of learning. At FBC Marshville Preschool, we know that play is a child's most important work, and we strive to create and maintain an environment where your child can grow and thrive while exploring the world around them. We aim to help the whole child grow and learn.
Thank you for sharing your precious children with us!

Here at FBC Marshville Preschool we strive to:
– provide education and growth that emphasizes cognitive, emotional and spiritual growth in young children
-build strong communication with families and staff. We will be using an app to help us effectively communicate and see your child's learning experience.
– have engaging experiences for children by exploring the world around them. This will include in house experiences and field trips outside the school.
-have intentional chapel time (Big Church). Kids will learn bible concepts, bible stories, monthly bible verses and worship songs. They will be able to engage and participate in chapel activities preparing them for outside real world experience of being in Church.
-make each day fun and engaging through hands on learning. Learning happens through play, creativity, structure, and fundamental age appropriate academic concepts of literacy and math, such as counting, coloring, and letter recognition and developing large and fine motor skills.
-use current Developmentally appropriate practices.
– teachers and staff will be required and encouraged to educate themselves on Early childhood education
-parent and family involvement will be encouraged through various events throughout the year. (Grandparents day, joining us for special chapel days, Christmas program, Graduation ceremony, Pumpkin Palooza, Easter Eggstravagnza, parent volunteer opportunities)
-create a place where children feel safe, loved and nurtured. Keep learning fun!!!!

If you have questions or concerns regarding our preschool you can email Sarah at, preschool@fbcmarshville.org