The Savvy Survivors ministry at First Baptist is one of the most fun and encouraging ministries we have. Our seniors have a lifetime of love for the Lord. Their stories of His faithfulness make them a treasure to the family at First Baptist. If you love to laugh, love life, and love the Lord then you're going to love being part of Savvy Survivors. Make plans to join our Savvy's Every Thursday at 10am for a bible study followed by lunch at a local restaurant.
As you can see from the shared pictures, they also enjoy hitting the road and spending extra time together. This is a group that will warm your heart with their love for the Lord and their love for people. They are a treasure!
Purim– the festival that is described in Esther … We ate Hamantaschën and re-read the story of the deliverance of God's people. And then we considered the parallels of God's deliverance made possible by Christ's death and resurrection.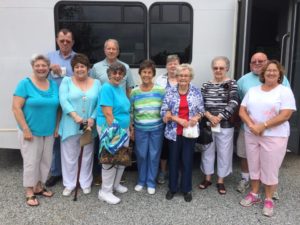 A fun, delicious trip to Shatley Springs Inn & Restaurant!
Savvy Survivors in Blowing Rock.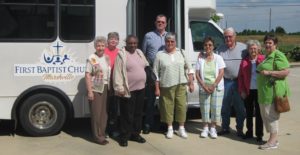 Savvy Survivors on a trip to Treehouse Vineyards
FBC Marshville 1636 Old Hwy 74, Marshville 704-624-2710