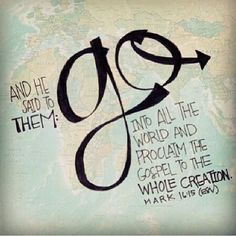 First Baptist Church of Marshville has a long history of valuing the importance of mission work and doing the work of the Great Commission. We support many agencies, organizations, and charities monetarily within our local community, our state, and also world-wide. We also recognize the importance of giving of ourselves and our time to serve others…being the hands and feet of Jesus and sharing the Gospel.
Our Mission Committee works hard to provide opportunities for our congregation to serve. There are ways to participate in local mission programs serving those close by and there are also opportunities to take mission trips both nationally and internationally. Perhaps this is the time for you to get involved!
2015 Passport to Christmas at the JAARS Center
On December 5th the RA's and GA's attended Passport to Christmas at JAARS in Waxhaw. After receiving their passport the group of twelve "flew" to China, Kenya, and Vanuatu in the JAARS Kodiak "super jet" – faster than the speed of light visiting all of the countries in three and one-half hours! They visited missionaries in these countries learning about the culture and way of life of the people, sampling some ethnic foods, and seeing they joy these people experienced in receiving the good news of Christ and the Bibles of cassettes translated into their native language.